Custom Software Development Team
One of the most important factors when selecting a custom software developer or a software development team is experience.  5 years of experience? 10 years? 15 years of experience?  By choosing us, we will select the most pertinent people required PER DEVELOPMENT TASK.  This will be a fluid process, when different tasks commence, custom software developers with the most relevant tech stack experience related to the task will be assigned.  You can determine the technologies preferred OR we will suggest technologies that best fits your project.  We will also assign a dedicated domain expert who has industry relevant experience relevant to your project.  And our management and experienced software development team will work with you every step of the way, from fleshing out and confirming the scope and requirements to product release and maintenance phases.  Let Campbell Software become your software development team.
---
Enterprise Class Software Development Experts
We are different than most custom software development companies.  Campbell Software is a commercial custom software development company.  Our people have deep commercial development experience.  Our infrastructure provides separate development, staging and production environments to ensure the release is verified BEFORE the drop date.  Our development infrastructure provides 6 layers of security, all servers are workstations prohibit personal use.  For private use, we provide a separate DMZ for staff, personal data traffic is completely separate from our corporate network.  We have our own private, secure TFS server, IIS servers, SQL servers, AD server, 3TB SSD storage, 4 1GB lines of bandwidth, 3 separate BGP based backbones and a UPS backed up satellite communication tower.  As well, our systems are backed up nightly (to disk, then to tape and then to our secondary office storage facility).  All of our hardware has UPS and diesel backup power.  We also provide stakeholders with a private, secure project portal, where all agreements, requirements, estimates, quotes, tasks, comments, meetings, QA recordings and progress is tracked, consolidated and accessible online.  We provide this infrastructure at no additional cost.
---
Custom Software Developers
Below are the primaries at Campbell Software.  Meet your new team of world-renowned Software Development Experts.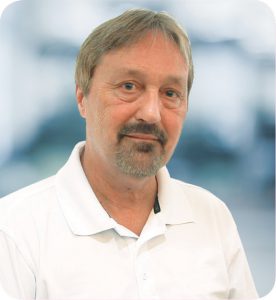 Gary Campbell is unique in his unsurpassed knowledge of custom software development and decades of "real world" business experience.  Few people have deep coding skills plus extensive business and management experience working with companies like TEC, Amazon, Hitachi and Verizon.
His start-ups include an online product used by 4 million users, a massive F10 corporate rollout on thousands of desktops and a nomination as best start-up in British Columbia.  His products have been featured in PC magazine, Frost & Sullivan and IDC publications.
Gary has extensive experience with LMS (Learning Management Systems), Oil & Gas projects, Web Conferencing, Accounting projects (GL/AR/AP/PR), Point of Sale integrations, Analytics Software, Back-of-the-House control systems, Perpetual Inventory control, EDI Ordering, Legal Billing systems, Advanced Image Recognition, Medical Device servos and Healthcare projects.
Gary manages all aspects of Campbell Custom Software Development.  Gary's key people and his pool of talented commercial software developers have worked with Gary daily for 6 to 9 years.
For your project, Gary will be highly involved in discussions, meetings and follow through.  Gary will look after the details, as attested by hundreds of technology skill set references and personal recommendations on LinkedIn and the Better Business Bureau website.  As well, Gary works closely with:
---
---